The Legacy of Buchanan's Crossing
Buy: Amazon | Amazon UK | Barnes & Noble | Apple/iBooks | Kobo and from other fine e-tailers. Also available in print on Amazon. 
Winner of the 2015 EPIC ebook award for Fantasy Romance! 
"Rhea Rhodan has created a very powerful captivating storyline with fascinating characters that had my attention all the way through the book. This is one of those books that I was up late reading because I could not put it down." --Reviews by Crystal (and 5 stars on Goodreads)
5 stars. "The characters are delightful and well-rounded…I enjoyed the story a great deal, including all of the little twists and turns Ms. Rhodan included – from the hilarious Raven familiar to the obsessed and malicious villain – the story was a delight to read and held my attention. Speaking as a well-seasoned Practitioner there are many books about witchcraft that leave me cringing…the fictionalized witchcraft theme was treated with deference and no silliness…I would recommend this book to anyone who enjoys a great love story with a bit of magic thrown in!"  Click here to read the full review on Goodreads
 "This steady-to-fast paced plot keeps readers enthralled with suspense, drama, humor and romance... The attraction between Clint and Cayden radiates from every page and the sex scenes are hot and steamy... The story has some surprising twists and turns to keep the reader on her toes and lots of laughs…" 4 stars—EVampire, The Romance Reviews. 
Buy: Amazon | Amazon UK | Barnes & Noble | Apple/iBooks | Kobo.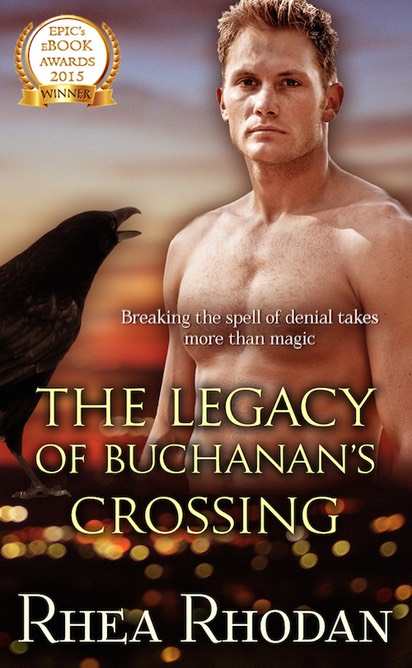 Breaking denial's spell takes more than magic
Cayden Sinclair: BBW—big, beautiful witch—struggling to control her power and become worthy of her legacy. 
Clint MacAllen: Blinded by ambition and desperate to save his failing construction company;  he's not expecting to find redemption wrapped in goth and toting a truckload of crazy. 
J Milton: Mega-developer with plans for the Crossing.
Buchanan's Crossing: One of the last magical strongholds on earth. 
Each has everything to lose. All will stop at nothing to win.
Click here to read Chapter One
And here's a taste from further in: 
Any urge he might have had to turn around died when he got an eyeful of her in a super-short black dress. The bottom of her marble white ass cheeks and a peek of black lace panties were visible because she was stacking boxes on a shelf far above her head. While standing on a three-legged stool. Wearing four-inch spike-heeled shoes.
His boots scraped to a halt. She jumped while trying to pull her dress down. The stool wobbled wildly. The lights flickered. He must have moved because he was suddenly aware his hands were squeezing the studded belt at her waist, of setting her on the floor, of her cool, soothing, green scent.
"I'm going to have to replace that bell right away."
"What?" He'd meant to ask her if she'd been trying to break her neck. Now he asked himself why, since his head had stopped pounding, she still wasn't making sense.
"The twerpy, chirpy tinkling was driving me nuts, so I tossed it. I guess I should've waited until I had a replacement. I'm thinking a cowbell would be a nice change." Her curly head tipped up from his chest. "You can, uh, let go of me now."
A deep, steadying breath through his nose delivered another dose of her rain-soaked, earthy scent. Yes, he could. He definitely should. That's what he instructed his hands to do. They responded slowly, one finger at a time. Once he took a step back, he remembered what he wanted to say to her.
Add to Goodreads: