News…
Congratulations to Rebecca B. for winning these gorgeous earrings in my recent subscriber drawing. I have no idea what the next drawing prize will be :>).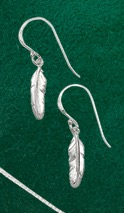 In the meantime, I'm still hard at work on a non-contemporary fantasy romance, while that time travel romance simmers away on my back burner. Subscribe to my newsletter for updates and insider information (and great prize drawings). 
Melting Shadows--romantic suspense with a fantasy twist.  
Buy now: Amazon | Amazon UK | Barnes & Noble | Apple/iBooks | Kobo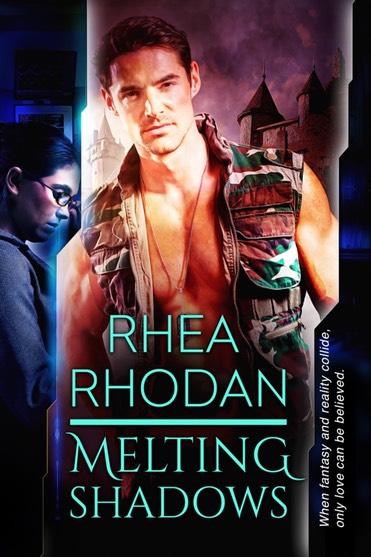 When fantasy and reality collide, only love can be believed.  
Shattered by a brutal attack and forced to flee, painfully withdrawn Dr. Prudence Marsh buries her emotions under numbing logic. For years, her escapes to a fantasy world created to survive her hellish past have been nothing more than a guilty pleasure. But when the host of the safe house turns out to be a dead ringer for her dream warrior, she fears she's lost her precious mind along with everything else.
Ex-SEAL Max Delaney has been known to dabble in a hot, delicious mess—or two, or three. He has no idea how to handle a cold, sour one. Blackmailed into babysitting Dr. Marsh in his hidden bunker while she finishes a top-secret project sucks. Until he falls for her. Then it blows. Every clue Max unravels only buys him more questions. Every step forward lands him two steps back, flat on his ass. 
Demons past, present, and future haunt Max and Prudence as they stumble along the twisting path to love. Merciless enemies and shifting alliances drive both to desperate measures, tumbling them over the border between shadow and substance—where each must choose what, and whom, to believe. 
Click here for a nice, long excerpt. 
5 stars and Top Pick! "…The writing was crisp, fast paced and engaging. Ms. Rhodan has a new fan and I'll be coming back for more! ...I love romantic suspense and this book went above and beyond. I recommend this book highly!"--Avonna at The Romance Reviews 
5 hearts "...as the book flows on toward the HEA, the reader will fall in love with her at the same pace that Max does; slowly and surely. The story is engaging, perfectly paced, and full of emotionally charged passages that will have the reader shaking his/her head, laughing, becoming anxious, or a multitude of other feelings and emotions." --Sapphyria's Book Reviews
Buy Melting Shadows: Amazon | Amazon UK | Barnes & Noble | Apple/iBooks | Kobo and other fine e-tailers. Also available in print from Amazon. 
~~~~~~~~~~~~
Winner of the 2015 EPIC ebook award for Fantasy Romance! 
The Legacy of Buchanan's Crossing
B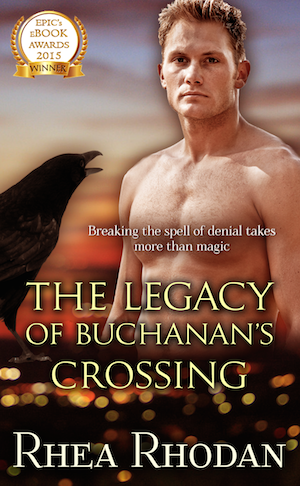 reaking denial's spell takes more than magic
Cayden Sinclair: BBW—big, beautiful witch—struggling to control her power and become worthy of her legacy. 
Clint MacAllen: Blinded by ambition and desperate to save his failing construction company;  he's not expecting to find redemption wrapped in goth and toting a truckload of crazy. 
J Milton: Mega-developer with plans for the Crossing.
Buchanan's Crossing: One of the last magical strongholds on earth. 
Each has everything to lose. All will stop at nothing to win.
"Rhea Rhodan has created a very powerful captivating storyline with fascinating characters that had my attention all the way through the book. This is one of those books that I was up late reading because I could not put it down." --Reviews by Crystal (and 5 stars on Goodreads)
Five stars."The characters are delightful and well-rounded…I enjoyed the story a great deal, including all of the little twists and turns Ms. Rhodan included – from the hilarious Raven familiar to the obsessed and malicious villain – the story was a delight to read and held my attention. Speaking as a well-seasoned Practitioner there are many books about witchcraft that leave me cringing…the fictionalized witchcraft theme was treated with deference and no silliness…I would recommend this book to anyone who enjoys a great love story with a bit of magic thrown in!" Click here to read the full review
4 stars. "This steady-to-fast paced plot keeps readers enthralled with suspense, drama, humor and romance... The attraction between Clint and Cayden radiates from every page and the sex scenes are hot and steamy... The story has some surprising twists and turns to keep the reader on her toes and lots of laughs…" —EVampire, The Romance Reviews
Buy The Legacy of Buchanan's Crossing: Amazon | Amazon UK | Barnes & Noble | Apple/iBooks | Kobo and from other fine e-tailers. Also available in print on Amazon. 
~~~~~~~~~~~~
Finding Grace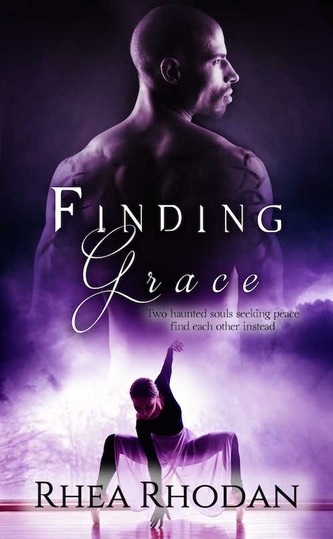 Two haunted souls seeking peace find each other instead
Kidnapped by human monsters, Grace Thorne was ripped from her quiet intellectual life and left deeply scarred. She's hidden herself for five years, but there's no escape from the nightmares of the past, or visions of the future. When one foretells tragedy, she gambles her fragile defenses on a haunted man to prevent it—only to discover love is the biggest risk of all. 
Jack Daggery doesn't need a mirror to know why people avoid him, nor does he care. After years working deep undercover, immersed in betrayal and death, all he wants is some peace and the quiet security company he co-owns. 
Dagger has no idea why the foul-mouthed little server of questionable gender bothers him. But he does know that living with the ghosts of his past was hard enough without being tormented by the mysterious thorn in his side. Or finding how much he needs her. 
Click here to read the excerpt  

 For Best Romance Action-Adventure/Romantic Suspense
Check out the great reviews: 
4.5/5 Frogs "In a Nutshell: One of the most unique heroines I've read in romance and an utterly compelling plot made this a novel I couldn't put down." J9--TheBookVixen.com
Click here to read the full review
5/5 rating: "Finding Grace is a wonderful and heartfelt story. Laughing and crying, I did not want to put this book down! Ms. Rhodan brings true emotion to the surface through her flowing words and bold characters…" --Star, The Bibliophilic Book Blog  
Click here to read the full review
Buy Finding Grace:  Amazon | Amazon UK | Barnes & Noble |Apple/iBooks| Kobo and from other fine e-tailers. Also available in print on Amazon.