Melting Shadows
Melting Shadows--a romantic suspense with a fantasy twist—is now available!   

5 stars and Top Pick! "…The writing was crisp, fast paced and engaging. Ms. Rhodan has a new fan and I'll be coming back for more! ...I love romantic suspense and this book went above and beyond. I recommend this book highly!"--Avonna at The Romance Reviews 
5 hearts "...as the book flows on toward the HEA, the reader will fall in love with her at the same pace that Max does; slowly and surely. The story is engaging, perfectly paced, and full of emotionally charged passages that will have the reader shaking his/her head, laughing, becoming anxious, or a multitude of other feelings and emotions." --Sapphyria's Book Reviews
Buy: Amazon | Amazon UK | Barnes & Noble | Apple/iBooks | Kobo | and other fine e-tailers. Also available in print from Amazon.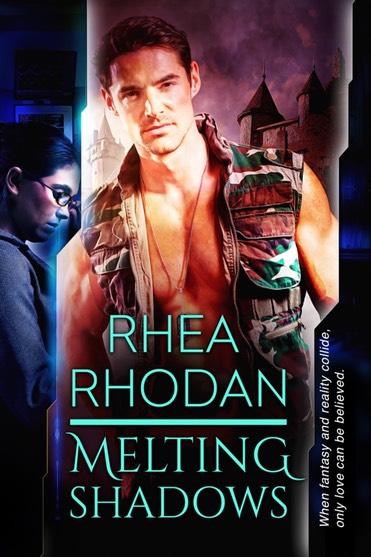 When fantasy and reality collide, only love can be believed.  
Shattered by a brutal attack and forced to flee, painfully withdrawn Dr. Prudence Marsh buries her emotions under numbing logic. For years, her escapes to a fantasy world created to survive her hellish past have been nothing more than a guilty pleasure. But when the host of the safe house turns out to be a dead ringer for her dream warrior, she fears she's lost her precious mind along with everything else.
Ex-SEAL Max Delaney has been known to dabble in a hot, delicious mess—or two, or three. He has no idea how to handle a cold, sour one. Blackmailed into babysitting Dr. Marsh in his hidden bunker while she finishes a top-secret project sucks. Until he falls for her. Then it blows. Every clue Max unravels only buys him more questions. Every step forward lands him two steps back, flat on his ass. 
Demons past, present, and future haunt Max and Prudence as they stumble along the twisting path to love. Merciless enemies and shifting alliances drive both to desperate measures, tumbling them over the border between shadow and substance—where each must choose what, and whom, to believe. 
Click here for a nice, long preview
Here's a quick nibble: 
Besides the briefcase she gripped so hard her knuckles were bone white, she clung to a large duffle bag. 
"Lemme take that for you." 
"No, thank you, Mr. Delane." The words were crisp and determined, her stance defiant, and her lips so tight they'd all but disappeared. 
Only slightly daunted, he tried again. "That's Delaney, ma'am. You can drop the 'mister' though, along with the bag. Go ahead and hang onto the briefcase if it'll make you feel better, but my mother would reach out from Beyond and smack me silly if I let you take one step with that duffle." 
Her jaw clenched and she released a sigh so muted Max almost hadn't heard it. "Very well. I have no wish to be responsible for any punishment you might receive in addition to the imposition of my presence." No smile graced her face; no hint of sarcasm laced her tone. 
What the hell? His mojo floundered. He shrugged on the duffle bag she held out to him, which turned out to be a lot lighter than it looked, and the impossibly small suitcase sitting on his porch. He stared at the oddly shaped package next to it. "What's that?"
"My spinning wheel."
Right. What else would a woman running for her life grab on the way out of the house? 
He tucked it under his arm, held the door open for her, and led the way past the vestibule, through the kitchen, and down to the cellar. When he simultaneously lifted the pair of canned peas on the shelf and the hidden panel slid open to reveal the bunker door, her soft gasp gratified him. 
She couldn't even see the cool parts yet, only the narrow hall and a glimpse of the kitchenette. The command center, with its bank of monitors, servers and other equipment in the main room wasn't visible from the entrance; neither was the den with its awesome entertainment system.
"Did you build this yourself, Mr. Delaney?"
"It was originally a fallout shelter leftover from the 50s. I did restore, convert and enlarge it myself." He opened the bedroom door and noticed for the first time how bare it was. "I'm sorry it's not cozier. I don't, er, entertain down here. I built the living quarters in case of emergency. I only use it when I'm jamming on a project. The shower's decent, though, nicer than the one upstairs. And the TV's great." 
"I do not require 'cozy,' nor do I waste my attention on the drivel broadcast on television. This room is sufficient for my personal needs. Of greater importance is whether your equipment will be adequate for my professional needs." Another frosty breeze from the tundra. 
Whatever it takes. "I'm glad you, um, like it since you'll be down here awhile. And I'm confident you'll find my equipment beyond adequate." He pushed a grin and waited for her reaction. 
Nothing, not even the flicker of irritation he'd expected. 
"Let us hope so. If you'd be so kind as to allow me to examine it?" 
God forgive him, he was tempted. Just to provoke a change in her expression. Of course, if it didn't, that frigid gaze could shrivel him for life.
He opted to lead her to the command center, and with a flourish, pulled out a second chair he'd bought this morning. "At your service."
"Thank you." She smoothed her bag of a skirt and sat with surprising grace. "May I assume no one other than you or I has access to this chamber?"
A telltale whining and scratching from the pantry saved him from telling a lie. 
Buy: Amazon | Amazon UK | Barnes & Noble | Apple/iBooks | Kobo | and other fine e-tailers. Also available in print from Amazon. 
Add to Goodreads: